Menzerna partners with the premium automobile manufacturers
OEMs trust Menzerna automotive polishes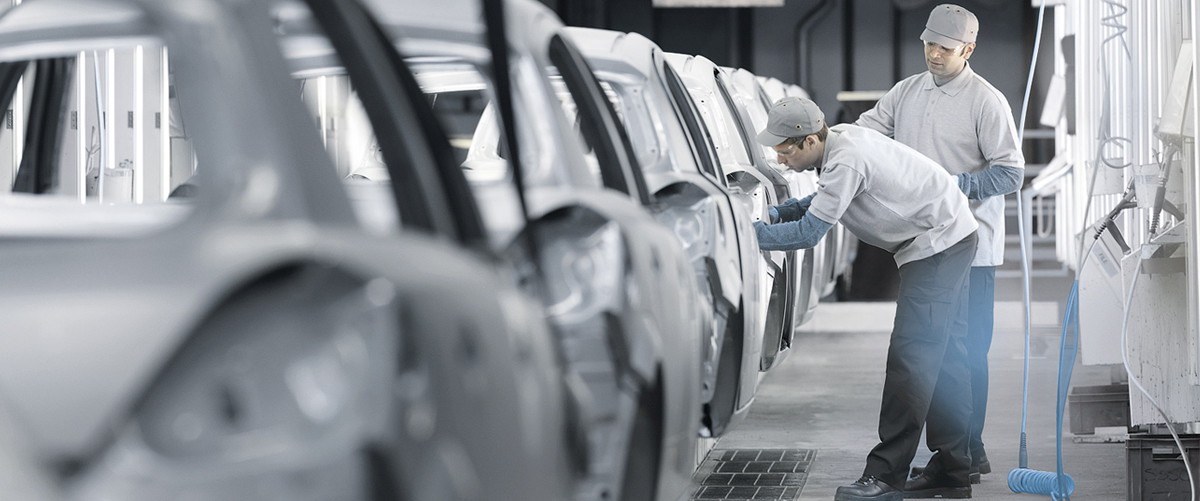 Automobile manufacturers rely on Menzerna when it comes to polishing automotive coatings. Defects in a variety of coating systems have to be polished out quickly with no discernible polishing marks. In doing so, the special conditions of production line operations need to be taken into account. Cycle times have to be met or optimised, and cleanliness at the workstation has to be ensured. This Menzerna know-how benefits coating operations, vehicle detailers and motor vehicle workshops around the world
Menzerna automotive polishing compounds are based on the products for automobile manufacturers.
Automobile manufacturers put their trust in Menzerna's polishing know-how
Menzerna automotive polishes give the premium clear coats of premium automobile makes their gloss. Menzerna is a long-standing automobile industry partner. Menzerna engineers develop innovative polishing agents for the automobile clear coats of today and tomorrow. They work closely with those responsible for the processes in the automobile plants and with the leading coating manufacturers. Menzerna is convincing on what is known as the "white plate". With fast processes and consistent quality at the highest level. Know-how that benefits coating operations, vehicle detailers and motor vehicle workshops around the world.
OEM: The cradle of Menzerna one-step products
The highest quality in the production line. That is the standard set by automobile manufacturers. Standing still means going backwards. Economic efficiency comes first. That is why automotive polishes from Menzerna are formulated for ultimate performance. The latest polishing technology is in demand. In polishes that combine the appropriate removal rate and required finish properties. Products that polish out defects in record time, simultaneously producing a high gloss level. Products that reduce processing times to a minimum. That is where products like the Heavy Cut Compound come in. Developed for automobile manufacturers, for the benefit of vehicle detailers, body and paint shops and motor vehicle workshops.