Menzerna car polishes for the professional use
Latest technologies for economical polishing and protection of automotive coatings
Menzerna car care products preserves value, cares and protects – economically and safely.We offer the best clear coat polishes as well as the best polishing compounds for automotive clear coats. Without silicones and fillers. Systematic and variable polishing processes let you work safely and efficiently. Our car polishing pastes and auto detailing chemicals are tailored to the needs of industry and trades. The latest polishing technologies ensure that materials are used economically. With Menzerna professional car polishes you obtain the desired surface quality quickly. Long-lasting high-gloss polish!
Menzerna car polishes – the best automotive polishing compound for every application
Systematic workflows with economical automotive polishes
Fast processes and the economical use of materials ensure economic efficiency. That is exactly what the Menzerna high-performance car polish products offer. They were developed based on many years of experience and in close cooperation with the automobile industry and leading coating manufacturers. In addition to reliable standard products, the variable 4-stage polishing system offers numerous alternatives: For flexible, safe processing depending on the order and the desired surface finish. For premium results in the shortest possible time. The latest polishing technologies ensure protection and lasting value. That is why our professional car polishing compounds are valued and extensively applied by professional users. Vehicle detailers, coating shops, motor vehicle workshops, automobile manufacturers or private automobile and old-timer fans: They all rely on the quality of Menzerna professional car polishes.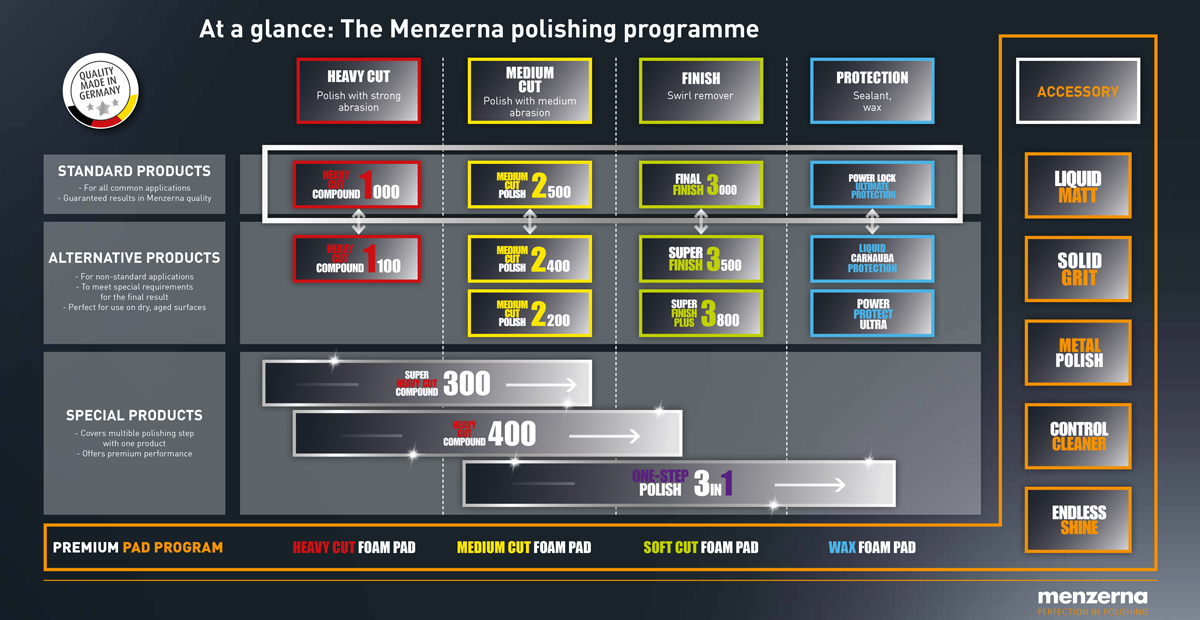 Automotive clear coat polish: Four steps for brilliant results
Car clear coat polish for black and coloured coating surfaces: Specialists have a variety of requirements for automotive car clear coats: Removing scratches, runs, overspray, streaks, clouding and holograms. Blending methods need to be adapted and various gloss levels have to be produced. Reliable car polishes are also needed to restore existing surfaces. Long-lasting protection against environmental influences preserves the value of automobile clear coats. We at Menzerna are dedicated to improving economic efficiency. The sparing use of materials and short process times are priorities. We do not use any silicones and fillers. This ensures you can enjoy good car polishing results. And we keep on getting better: We are always working on the development of best car polishing compounds.