Polishing compounds in Premium quality
Solid compounds, emulsions and polishes for industry and trades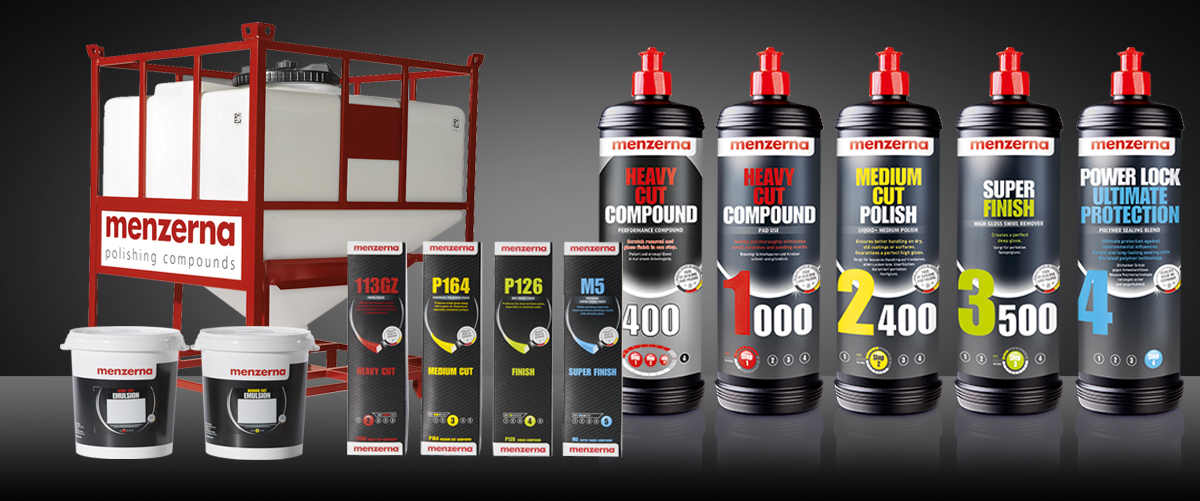 Paste, emulsion or polish: Polishes enhance a product's functional and aesthetic value. Menzerna develops and produces polishing compounds for industry and trades. We cover all areas of industrial polishing with numerous innovative formulations. Our polishing compounds stand for quality, speed and process security. Aluminium, brass, stainless steel or coated surfaces: Menzerna polishing pastes are used on a wide variety of materials. Polishing transforms household goods and jewellery into luxury articles. The gloss of chrome on sanitary fixtures is only brought out by polishing. For manual applications or in fully automated polishing systems: Menzerna products are used where fast, perfect polishing results are in demand.
For us, innovative polishing compounds are the name of the game
Polishing compounds of the highest quality – for good reason
Solid Paste, emulsion or polish – Menzerna has the right polishing compounds for all surfaces and every application. We are continuously developing customer-oriented innovations in our laboratory. They are put through their paces in our test centre. All upstream and downstream processing steps are included in testing.
Many quality characteristics of our pastes, emulsions and polishes only come into existence during the manufacturing process. Our know-how of mechanical process technology is among our core competencies. We consistently formulate our polishing compounds for high performance and economic efficiency
Improving competitiveness – with Menzerna polishing compounds
What makes our polishing agents unique? More than 125 years of experience go into their development: We have a precise understanding of application technology. We only use base materials of high quality. We have mastered the production process. We develop innovative polishing agents of high quality using the latest methods. We are a reliable, flexible new development partner for our customers. For economical polishing processes and perfect surfaces. And therefore also to improve the competitiveness of our customers.