Finish and care of automotive coatings
Automotive polishes achieve impeccable results with Menzerna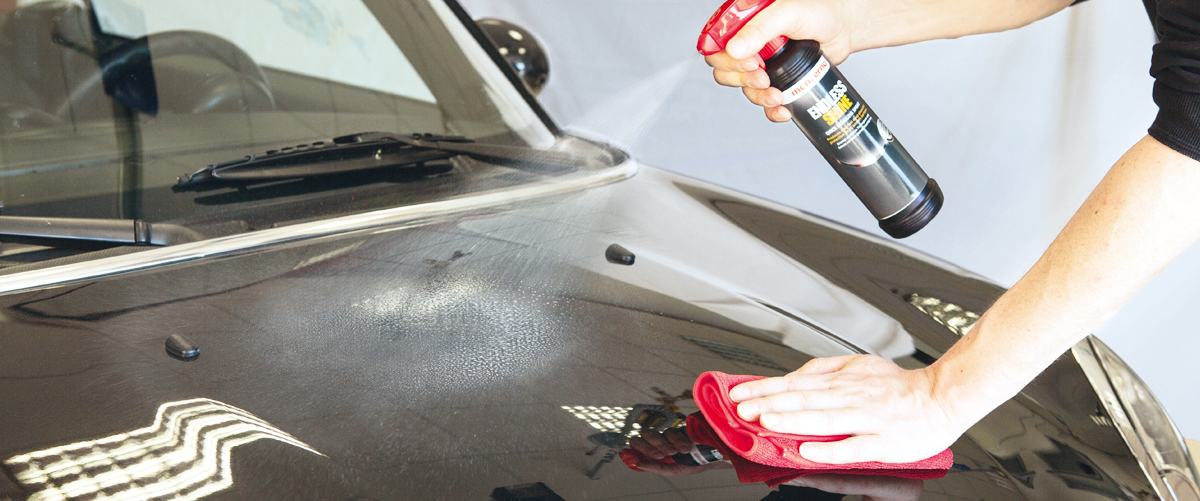 Menzerna automotive finishing compounds and care products are used wherever fast, premium polishing results are required in manual applications: In the showrooms of car dealerships, with used vehicle dealers, after car exterior detailing or before vehicles are handed over to workshop customers. Polishing novices, automobile lovers and vintage car owners also enjoy the uncomplicated application of the Menzerna finish and care products and detailing supplies. Polishing out minor scratches, eliminating signs of use or reconditioning smooth surfaces with lasting protection is a snap with Menzerna.
Easy gloss and protection: Find the right finishing compounds and sealant here
Menzerna process recommendations for finish and care
Effectively reach your goal with straightforward application
Car dealerships, used vehicle dealers, exterior auto detailing businesses and workshops can offer their customers added value quickly with Menzerna finish and care products and our corresponding car detailing tools. Thanks to short processes with a small number of products, they can remove minor scratches in automotive coatings and easily recondition and protect surfaces. With polishing machines or by hand: Straightforward application allows even commercial users, for whom polishing is not part of their everyday business to easily produce surfaces with a brilliant shine. Thanks to the low consumption of materials and short processes, removing scratches from coatings is also economical. Signs of use on second-hand vehicles are effectively removed with one-step products such as Menzerna One-Step Polish 3 in 1, producing a brilliant gloss and long-lasting sealing. In one step, with one product. Dust on clear coat surfaces or finger prints on premium show cars are reliably removed with Menzerna Endless Shine, reconditioning the coating and providing added protection against environmental influences.
For all vehicle lovers
Discerning private customers, vintage car owners and automobile enthusiasts appreciate Menzerna. With the Menzerna finish and care products, anyone can maintain the value of their vehicle and provide long-lasting protection for coating surfaces. Our automotive finishing compounds streaks and minor scratches in the coating can be eliminated manually. The result: Hologram-free surfaces with an exclusive high gloss – all the way to a show car finish. With Menzerna sealing products that protect against environmental influences over the long term. Perceptibly smoother surfaces with perfect beading behaviour let the heart of any automobile enthusiast beat higher. Menzerna provides car care products for all smooth surfaces. After polishing, after sealing, and after every car wash. On the vehicle interior and exterior. Plastic, coated wood, rubber, glass and chrome are cleaned, reconditioned and protected with Menzerna Endless Shine. Reliably produce perfect surfaces: Clear product labelling with colour matching of the products to the individual process steps makes working with Menzerna automotive polishing compounds straightforward.